Nov 11, 2023 10:33 AM Central
Leah Negrin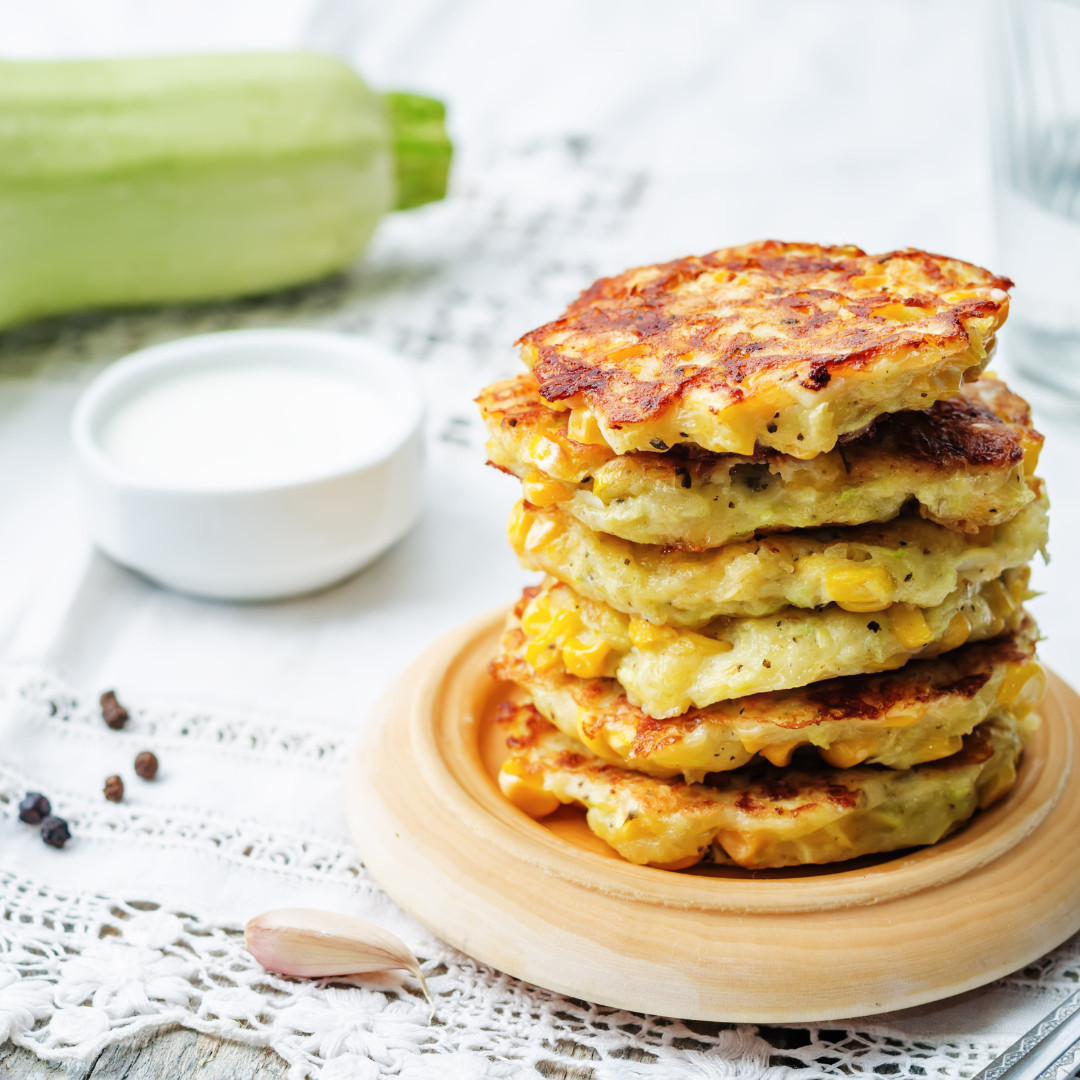 As we're heading into the season of holiday parties and family gatherings I love finding delicious recipes that I can take! This is a yummy dish to take for people to munch on before the main dish, but quite honestly it's good for any occasion! The sauce with this is a nice touch too.
This recipe feeds at least 16 people!
Ingredients
2 – 3 tbsp olive oil or coconut oil (for cooking the fritters)

2 medium organic zucchinis, grated (approx. 3 cups)

1 medium organic sweet potato, peeled and grated (approx. 1½ cups)

1 small organic red onion finely chopped

3 organic spring onions, finely chopped (reserve 1 for serving)

1 organic garlic clove, finely chopped (optional)

1 egg from the farmers market or organic free range, beaten or 1 chia egg (see chia info)

1 tsp sea salt and freshly ground pepper (to taste)

2 drops black pepper essential oil (to taste)

4 drops lemon essential oil (to taste)
¾ cup vegan or homemade mayonnaise, non-dairy unsweetened coconut yogurt or non-dairy sour cream

½ cup finely chopped herbs (choose from basil, parsley, coriander, dill and/or mint)

1 spring onion finely chopped

2 tbsp fresh lemon juice (to taste)

1 tbsp maple syrup or honey (optional, to taste)

4 drops lemon oil (to taste)

1 drop black pepper oil (to taste)

½ tsp sea salt and freshly ground black pepper (to taste)

pinch of turmeric powder (optional, to taste)
Instructions
To make the Lemon Herb Sauce:
Place all the sauce ingredients in a blender and blend until combined.

Taste the sauce and add more sea salt, pepper, lemon oil and/or maple syrup to your taste.

Chill until ready to serve.
In a large bowl, mix all the ingredients together by hand except the cooking oil. Take a little of the fritter batter in the palm of your hand and press together to see if you are happy with the consistency.

Heat a large stainless steal or cast iron frying pan on medium-high heat and add approx. 1 tbsp of the cooking oil and let it heat for approx. 15 – 20 seconds.

Using a tablespoon, scoop a heaping spoonful of the fritter mixture and place it in the pan and gently press down to form a patty and repeat. Add more oil for each new batch you cook and watch the temperature as you may need to reduce it a little.

Cook for approx. 2 – 3 minutes until golden and then gently turn them over using a spatula and continue cooking 2 – 3 minutes until golden brown. You may need to reduce the heat a little and be careful not to burn.

Place the cooked fritters on a wire rack, a plate or baking tray lined with paper towels to remove any excess oil and gently cover with baking paper to keep warm while you cook the rest of the fritters.

Serve the fritters on a platter or individual plates topped with a little Lemon Herb Sauce and serve the rest of the sauce in a little bowl on the table. You can sprinkle the fritters with chopped herbs and spring onions before serving for presentation.