Nov 17, 2023 09:26 AM Central
Leah Negrin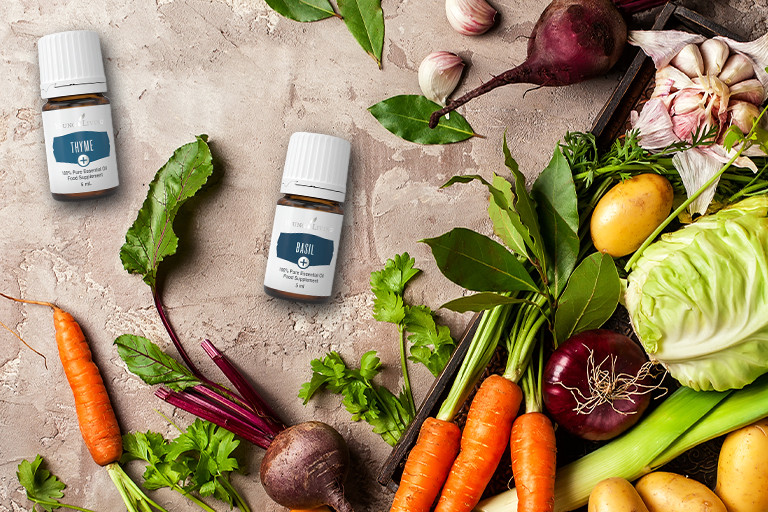 This recipe is a spin off the classic chicken noodle soup that we all love during the winter months! It's packed with seasonal vegetables, and it can all be made in one pot, reducing the amount of washing up afterwards #winwin!
Ingredients:
1 onion, finely chopped
2 cups mushrooms, sliced
¾ cup kale, roughly chopped
1 drop Thyme+ essential oil
1 drop Basil+ essential oil
4 garlic cloves, crushed
3 cups vegetable broth
½ cup coconut cream
2 cups of gluten free gnocchi (whole foods and trader joes both have this!)
Salt and pepper to taste
Directions:
Heat a drizzle of olive oil in a large pot over medium-high heat. Once the oil is hot, add the onion and mushrooms for a few minutes until softened.
Add the garlic and cook for another minute.
Pour in the stock and cream. Stir well.
Add the Thyme+ and Basil+ essential oil.
Bring the soup to a gentle simmer and cook for 10 minutes until slightly thickened.
Whilst the soup is simmering, cook the gnocchi in a separate pot of salted water until they float.
Drain and add the gnocchi to the soup and season to taste with salt and pepper.
Add the kale and simmer for another 5 minutes until kale has softened.
Serve and enjoy!
This recipe serves 6, so remember to adjust per number of guests invited. It's not a problem if you make too much—enjoy the leftovers for lunch the following day!